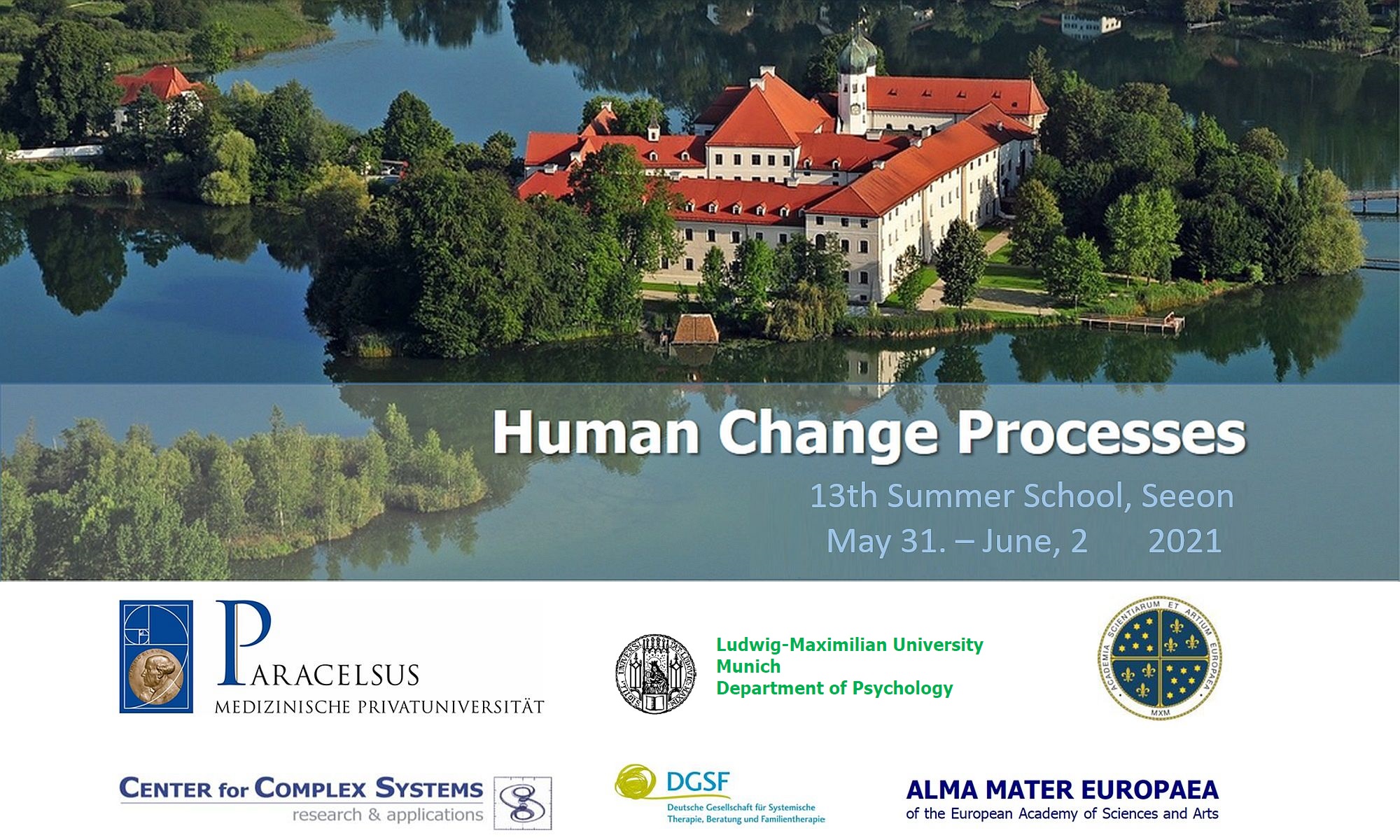 ---
Program
Unfortunately, it seems to be unavoidable due to the current situation:
SUMMER SCHOOL 2021 WILL BE HELD AS A VIRTUAL CONFERENCE!
The program, the lecture dates and the time slots remain essentially unchanged.
Please download the current program HERE.
Organizers
Institute of Synergetics and Psychotherapy Research, Paracelsus Medical University Salzburg
European Academy of Sciences and Arts
Center for Complex Systems
German Society for Systemic Therapy and Family Therapy (DGSF)
Ludwig-Maximilian University Munich, Department of Psychology
Scientific Organizer
Prof. Dr. Günter Schiepek
Location
Seeon Monastery (Kultur- und Bildungszentrum des Bezirks Oberbayern), Upper Bavaria, Germany
Klosterweg 1, D-83370 Seeon
+49 (0)8624 897-0
kontakt@kloster-seeon.de
Participation Fees:
50 Euro (students: 25 Euro).
Tickets for single days: 20 Euro (students: 10 Euro).
Fees for accommodation or breakfast are not included.
Registration:
English:       Smartphone     |    PC
Deutsch:     Smartphone     |    PC
———————–
and by assignment of the participation to the bank account:
Hypo-Bank Salzburg
IBAN: AT195500011100006603
Swift: SLHYAT2S
Recipient and intended purpose: Summer School
QR-Code for bank account:

Web-Pages:  Christian-Doppler-Klinik    pmu.ac.at    ccsys.de

Hotels
Seeon Monastery (Kultur- und Bildungszentrum des Bezirks Oberbayern), Germany
Klosterweg 1, D-83370 Seeon
+49 (0)8624 897-0
kontakt@kloster-seeon.de
Haus Rufinus (Zweibettzimmer)
Klosterweg 31, D-83370 Seeon
+49 (0)8624 87594-0
www.rufinus.de
Pension Klosterblick (Zweibettzimmer)
Weinbergstr. 56, D-83370 Seeon
+49 (0)8624 8969811
klosterblick@t-online.de
Weitere Angebote zu Übernachtungsmöglichkeiten über den Verkehrsverband Seebruck
Tel. +49 (0)8667 7139
tourismus@seeon-seebruck.de